E&P Hydraulics for your Motorhome
Specialist Automotive Products are trusted installers of E&P Hydraulics levelling solutions for motorhome owners, ensuring your vehicle is level on any ground. E&P Hydraulics is renowned worldwide for their specialist levelling products, providing a simple solution to help your leisure time.
There is nothing more frustrating than finding a spot to park your motorhome only to find that the ground isn't level. Unlike many standard motorhome levellers that often fail to achieve the perfect level, E&P Hydraulics offer a push button solution to achieve a perfect self-level in two minutes or less.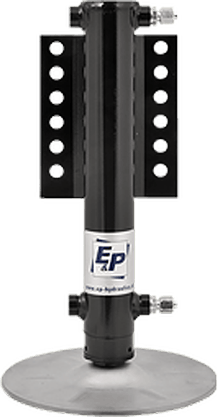 The E&P LEVELSYSTEM incorporates four lightweight hydraulic jacks that are attached to the chassis. Different sized jacks are available, with each one capable of supporting any motorhome weighing between two and ten tonnes.
One of the great features is that the system only works when the handbrake has been applied. This inbuilt safety feature means that when you are ready to set off there is one button to retract all jacks. If you forget to retract them and the handbrake is released, an alarm will sound, and the jacks will immediately be retracted, removing the risk of damage caused to the vehicle or the jacks.
Technical Data
Levellers available of two to ten tonne per jack
Four hydraulic jacks attached to the chassis make up the system
A variety of different jack sizes are available for different vehicles
Powder-coated stainless steel footplates prevent corrosion
A 12 volt 800-watt motor powers the hydraulic pump
Includes a control unit which is fully automatic
Every jack is operated by its own individual valve
No need for a separate tank - the oil tank is integrated directly into the pumps
Two-year warranty
For more information on E&P Hydraulics, click one of the contact buttons on the bottom of the page, alternatively, call us on 0333 600 6070.