Caravan Levelling Systems
Specialist Automotive Products supply and fit levelling systems to caravans around the UK. We install products manufactured by E&P Hydraulics, one of the industry leaders in caravan levelling.
If only it was as easy as attaching your caravan and driving to your favourite spot! Instead, your chosen destination has unlevel ground causing your caravan to be on a slant. Thereafter you may have to use basic levellers to solve your problem. E&P Hydraulics have a product called LEVELSYSTEM, whereby two supports are mounted to the axle of the caravan allowing it to be levelled side to side.
To help with levelling the front to back, the LEVELSYSTEM's four Big Foot corner steadies replace your existing standard supports. This 6-support system, two for side to side levelling and four for front to back levelling, reduces the amount of force transferred through the floor. The LEVELSYSTEM supports are either automatic or can be adjusted manually, so you get the perfect level and significantly reduced wear or tear on your chassis.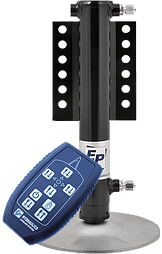 E&P Features
Easy levelling, horizontal in 2 minutes, at the push of a button
Fully automatic, or manual
Sturdy and vibration free position
Added theft protection
Full hydraulic system
Wear and tear reduced
Compatible with other caravan accessories including motor movers
Easily setup
Can be used immediately
Waste water drainage improved
Technical Data
For caravans/special trailers with max total weight up to 3.5t
Approx. 30kg net weight for the whole system
240 watt hydraulic motor
12 Volt operating voltage
Powered by the existing leisure battery
Very low current draw
2 year warranty
Large, mobile pivoting support plate for corner steadies (AL-KO Big Foot)
For more information on E&P Hydraulics, click one of the contact buttons on the bottom of the page, alternatively, call us on 0333 600 6070.